Have you ever learned something? Mastered a mini-skill in the massive ocean of possibility, a skill that has helped you accomplish your goals in some way? That, my friend, is the only qualification you need to become a teacher!
People across the planet right now are standing in the place that you once were, waiting, just as you once did, for someone to show them the way. They are not looking to leapfrog five-thousand miles to the end tape, they just long to be able to overcome their fears and take the next confident step. Can you help someone do that in a specific area of life? My bet is that you can!
I'm a big fan of education. Not formal education, although there may be benefits to be found there. I'm talking about on the ground, in the trenches, learning skills you can use in the marketplace to help others reach for their dreams.
I'm a grateful recipient of timeless truths from many great preachers and teachers who have expanded my comprehension and experience of God and His ways. I'm a voracious reader of books that stretch my imagination and equip me to succeed. I'm a lifelong learner from men and women who have gone before me and achieved what I'd like to see in my own life, marriage, business, and family.
I'm a maker. A child of the Creator cultivated by the Holy Ghost to follow in my Father's footsteps and make something!
One way that this creative calling is actualized in my life is by creating courses that help others, share experience, expertise, and inspiration.
The world has opened up in ways we could never have imagined, not just as recipients, but contributors.
Be a contributor, not just a consumer.
Keep the seed sowing cycle working by sharing your awesome!
You have a contribution to bring to the world, something special to share. All of your rich experience is transferrable but needs a vehicle to carry the information from your heart to that of someone else. Online courses are one way to bake that beautiful knowledge cake so someone else can eat it!
The best and simplest way I have found to do this is using a platform like Podia. Podia not only allows you to host all of your videos and files, it makes selling and sharing your creations extremely easy. Whether it's PDF books, or full-fledged video trainings, the Podia platform removed the technical hurdles so you can concentrate all your efforts on simply creating content that resonates with your audience.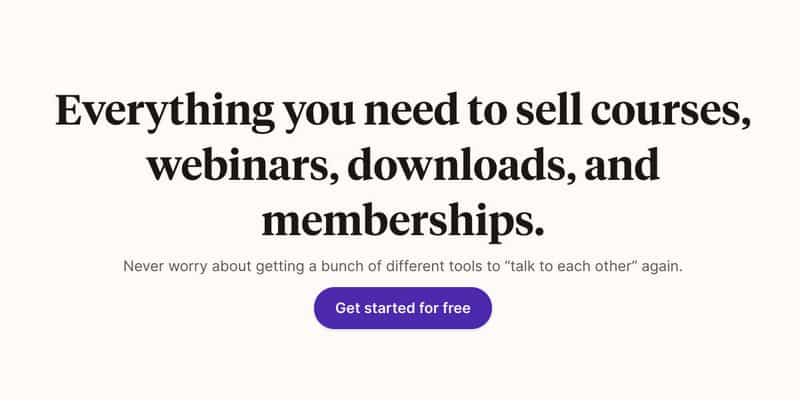 There are other options that are free, such as Udemy, which is also a good choice if you are just starting out and have limited funds to invest. The drawback is that you have far less control over how your content is presented and delivered to your customers and students. Podia provides everything you need to create a website, a shop for your products and courses, sales pages for your products, memberships, affiliate management, and more. Even email marketing and list building are built-in.
There are some weaknesses. The ability to create even simple funnels is very limited.
Thankfully, the team behind Podia is very passionate and active in improving every aspect of their site and service all the time, so what's lacking now will most likely be added and improved later.
What do you know that you can show?
Do you have ideas that can be planted in others, causing them to prosper and grow?
Online courses may be the way to go!
Click here to check out Podia and take advantage of their 14-day free trial