Do you want to create a prosperous Kindle book publishing business that keeps on dishing dollars – even though you work less than a two-days a week?
Discover the million-dollar secret ($1,193,822.76 to be precise) to building a self-publishing empire that virtually runs hands-free and delivers dollars to your pocket every day of the year…
From the desk of David Lee Martin…
My name is David Lee Martin. I'm a writer and publisher. In the past 7 years, I've created a million-dollar business from the ground up selling easy-to-create short books on Amazon.
A Boring Back Story (what a relief!)
I'm not going to give you a big number about how I was desperate and penniless. Or the epiphany that delivered the secrets of success into my eager hands.
If I wanted to there is a dramatic tale to tell, but the story of my hero's journey is not going to help you fulfil yours.
Believe me, I've run the gamut of emotional and financial ups and downs so I'm nothing special.
The keys I want to share are actually much simpler and more practical than that.
A few years ago I experienced what some consider remarkable success in the self-publishing space, but behind the scenes, I knew that scaling could never happen if I remained the central cog in the machinery of my business.
Are you making this same grave error?
I have seen it time and again.
Passionate creatives eagerly pursue the dream of financial freedom only to find that they have not built a business, just another hamster-wheel job for themselves – one in which they carry the burden of responsibility and the entire workload.
You may have heard the saying "chief cook and bottle washer"? That's a perfect description of most online 'entrepreneurs'.
The vision of freedom is swallowed up in a deluge of daily activities that just keep piling up, and it is easy to end up working more hours for less money than if you dragged yourself to the office every day.
The same is true for authors, creators, and communicators of all kinds. Instead of working less and making more, the opposite quickly becomes a tiring reality.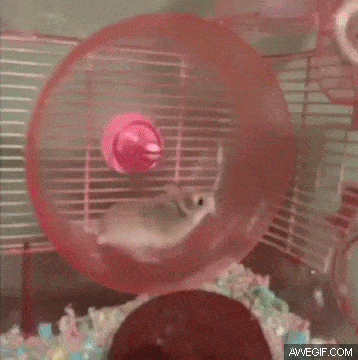 It's Time To Get Off the Hamster Wheel!
I want to share the secret that set me free from never-ending activity and delivered a million-dollar business that gives me the freedom that I enjoy today.
If that sounds interesting, keep on reading…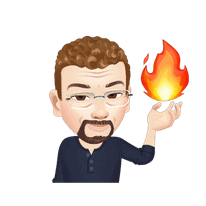 Business or Busyness – The Choice Is Yours
If you want to build a book–business, not a book–busyness you will need to make a fundamental decision that informs every aspect of what you do.
You either build according to shifting highs and lows, rolling with the daily punches and hoping for favorable outcomes, or you double down to discover what I call the systems mindset.
Systems eliminate the need for YOU to do all of the work.
You become a business owner, in charge of your destiny, rather than a glorified (often underpaid) employee of your own business.
The Potent Power of Simple Systems
In the process of growing my humble enterprise, I've developed systems that can be applied to any creative book business. Even more importantly, the mindset of the systems approach will impact every aspect of your thinking and life, whatever creative business you are in.
I am sharing very specific examples from my Kindle empire, but there is a deeper truth here that goes far beyond just business.
Get this, really get it, and transformation is inevitable.
Everything is a system, and systems work (instead of you!)
Play along with me for a moment…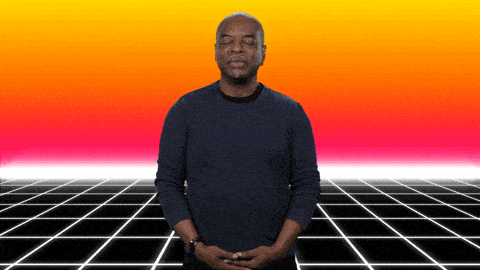 Feel the life in your body.
You are experiencing the most magnificent system ever created. Every second of the day you experience a myriad of finely tuned systems that produce life and growth all around you, with very little or no input from yourself.
You are now reading this sales page on the screen of an electronic device.
Think of all the working parts that are presently at work to place this 'miracle' in your hands.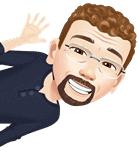 You and I are communicating across the globe with effortless ease.
By harnessing the systems that are often invisible (but available) we have reached around the globe and engaged in a conversation. I may even be asleep right now or enjoying coffee and ice cream with my wife and kids. Yet, here we are!
The power of systems.
Success Is A System
Systems produce replicable results.
Run the system, and the results are guaranteed.
The key is not the individual parts, but how those parts work together to produce the desired outcome.
Too many training products fail to emphasize the pivotal role that simple systems play in any successful endeavor.
Detailed Process Maps, Intricate Blueprints, Standard Operating Procedures, and the consistent cogs of daily business machinery don't have the same emotional pull as the sleek car, dollars falling from the sky, and golden goose promises.
I want to set you free from chasing the wind and place your feet firmly on the ground so you can build an uncommonly profitable Kindle business.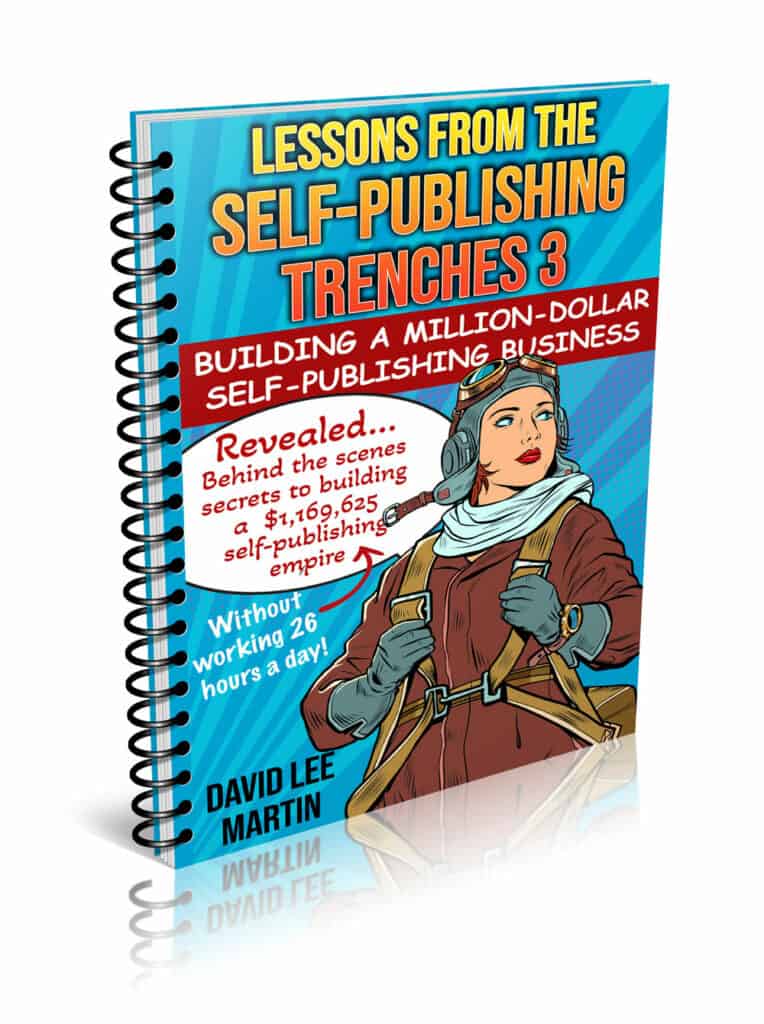 Pulling Back The Veil On A Strikingly Successful Book Business
In the original editions of Lessons From the Self-Publishing Trenches, I shared without any censorship the exact processes I work to build and maintain a powerfully prosperous Amazon publishing business.
If you don't already have those original Trenches manuals, I heartily encourage you to pick them up (you'll have the option to grab them cheap on this page as part of your purchase).
In this brand-new training, I pull the veil even further back to show the machinery not just behind the books I publish, but the business that churns out those books week after week, month after month, year after year, with minimal expenditure of time and energy on my part.
If you are struggling to break through to the next level in your entrepreneurial book business, this is the training for you.
My goal is to simplify and streamline every aspect of your book business into a finely tuned money-making machine.
Lessons From the Self-Publishing Trenches III I pulls the lid back on the following (and more):
How you can build a book business that works for you, not one that you work for!
The obvious but so often overlooked core component of your book business. Get this right early and it will multiply across everything you produce.
The different "whys to buy" for fiction and non-fiction readers and how you can give each of them precisely what they are looking for.
The doorway-to-multiplication principle that makes the entire process of building a Kindle business far less intimidating than it initially seems.
Optimization secrets so every asset in your library works its socks off to deliver value to your readers and dollars to your pocket.
How to follow your numbers without frying your brain.
Audience-building avenues that won't cost you a ton of money so you can keep bringing new eyeballs to your books.
How to clear your desk – the power of delegation, automation, and elimination. This will rock your world.
The EXACT systems and software I use to manage my million-dollar book business in less than two days a week, and how I have other people do the work!
Are you in?
I have personally learned and honed each component of my self-publishing business, stripping it of everything that is unnecessary or over-complicated, so my energy and attention do not spill through needless holes.
My systems are tight and the proof of that is the time and income I enjoy because of them.
In this new training manual, I spill the beans on exactly how I do it.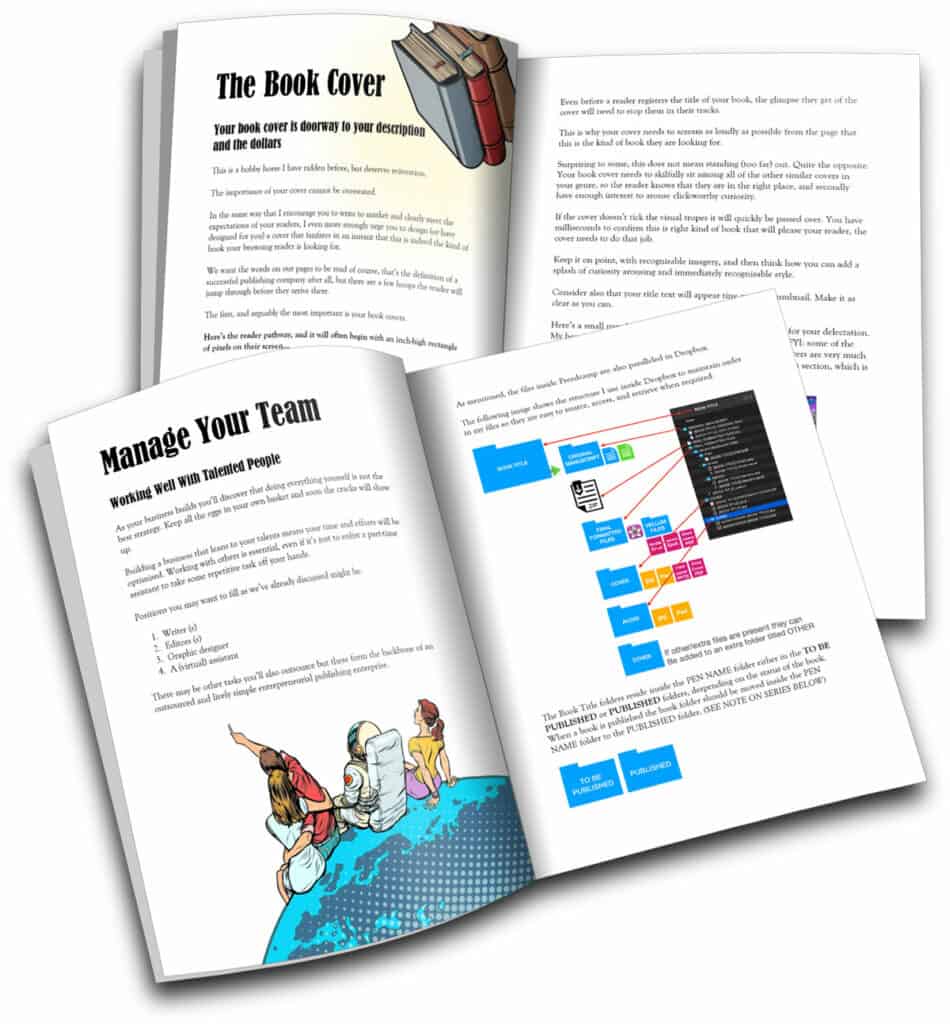 Lessons From The
Self-Publishing Trenches III
Full System Training
$399
For A Limited Time Only $47
Here's what some other publishing friends have to say about the Trenches training…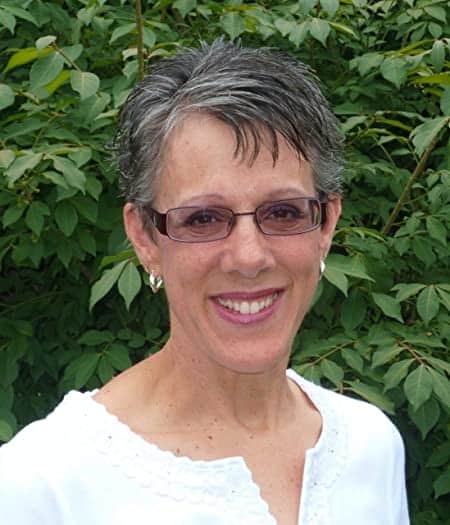 "David Martin has a genuine gift in distilling things down to bite-size chunks. I have been in the publishing game for years now, and if I'd had David's book in the early days it would have saved me countless hours of trial and error and weeks of research. For newbies and oldies alike, you will find solid advice, guidance, and practical tips in Lessons from Self-Publishing Trenches III. Do yourself a favor, grab this book and enjoy David's generous and helpful knowledge."
– Brenda Maxfield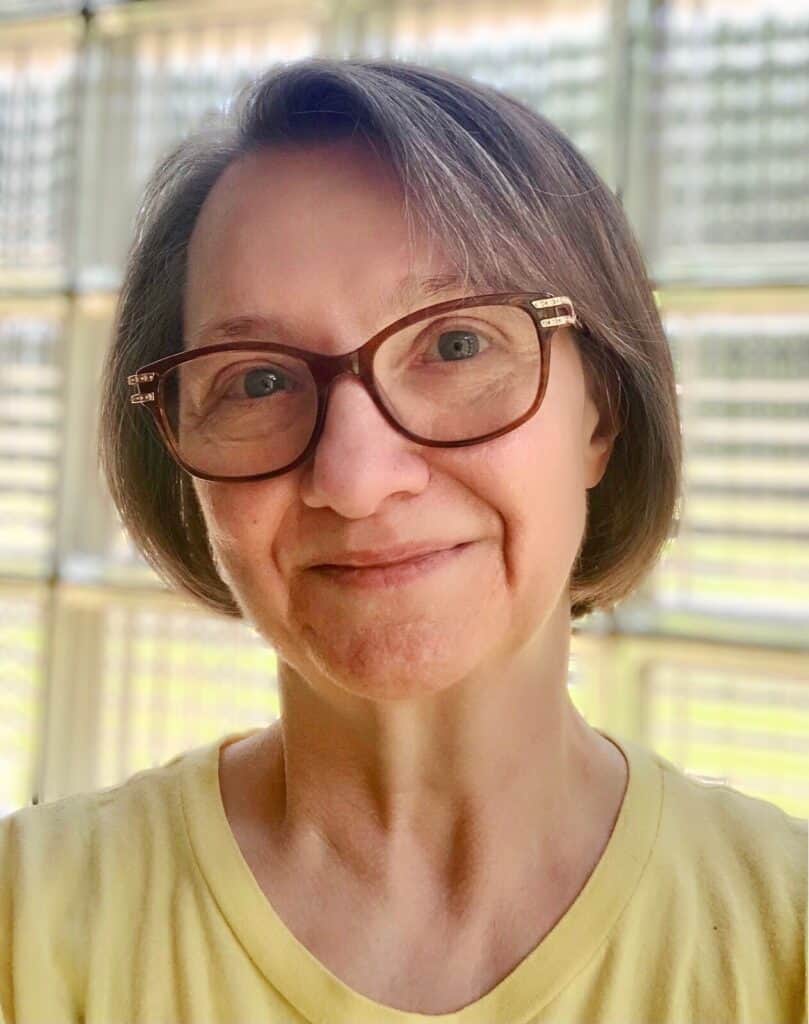 "If you could sit down with David and ask him all of your questions about what he does every day and how he does it…"In the Trenches" would be the result. David Martin is living and breathing life every day as an indie publisher, and is earning the income that many authors only dream of. 'In The Trenches' is humble, comprehensive, well-organized, and in my opinion: brilliant. If you don't already have your own smooth-running system, I highly recommend you check this out!"
– Teresa Miller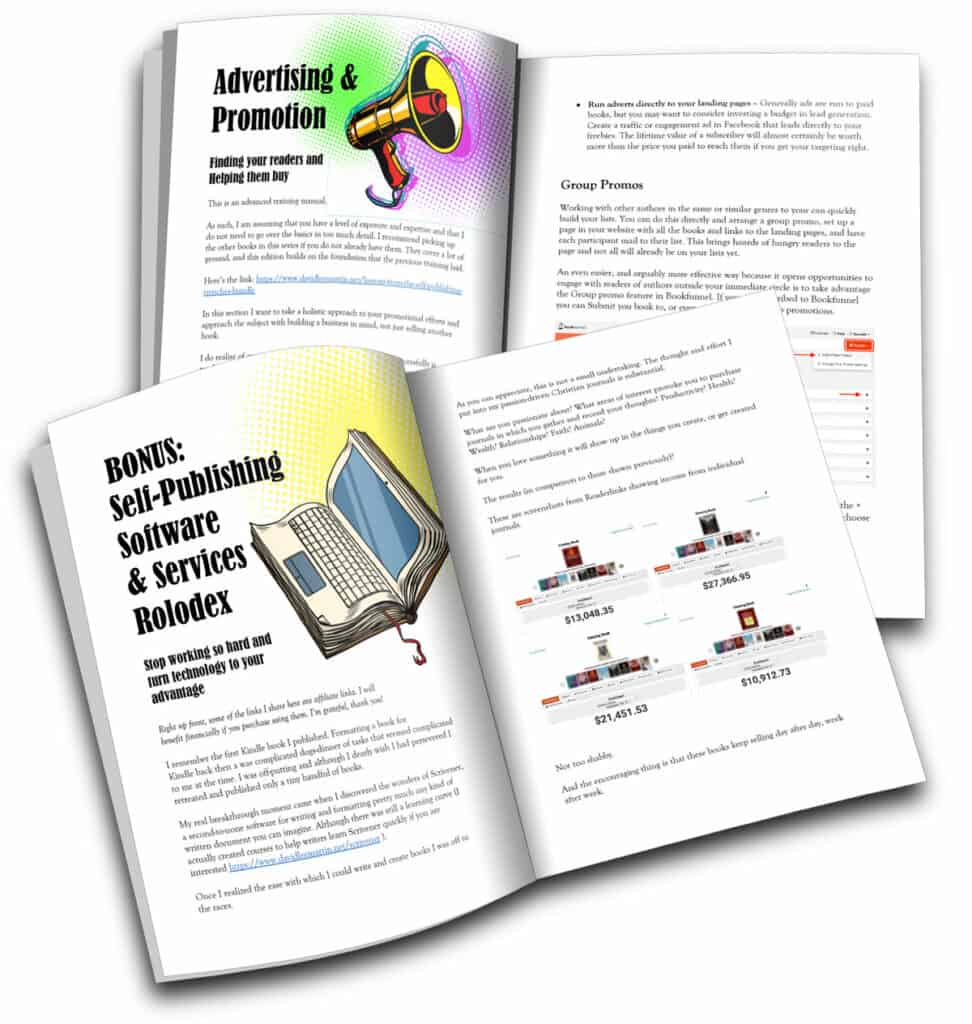 Lessons From The
Self-Publishing Trenches III
Full System Training
$399
For A Limited Time Only $47
Let me ask a question…
You'll understand why I'm asking it in a moment.
What is your time worth?
Look yourself in the mirror and answer honestly.
I'll tell you the answer. Far more than money could ever buy!
If grasping the systems mindset and applying just one or two key elements in your business could save you one day each week your investment in this training will pay for itself not just once, but 52 times every year, and ongoing for years to come.
Can that kind of payoff really be quantified?
What if you apply the keys and concepts to more than one or two aspects? What if you can turn a workweek from 6 days to three, or even one?
You do the math.
If you really want a business, not just a busyness, don't even blink. Buy the Trenches III training right now.
High-Level Training for A Low-Ticket Price
I could easily sell the ideas and practical keys I share in Lessons From the Self-Publishing Trenches III as a high-ticket consultant. Instead, I have chosen to lay it on the table for anyone who wants to benefit from the premium book coaching concepts I practice every day in my own Kindle business.
If you don't see the value maybe you're not quite at the place you need this information, or you don't envision your publishing business growing to the point that it will be required. That's fine.
This level of money-making business implementation is not for everyone. It takes lots of time and energy to build the foundations that lead to a hands-off business. This is not a get-rich-quick opportunity. It's a roll-up-your-sleeves-and-lets-get-real opportunity.
But if building a real and sustainable time-and-dollar-rich business is something you are passionate to discover and do, you'll find real-world time-tested keys that are proven to work inside this brand-new manual.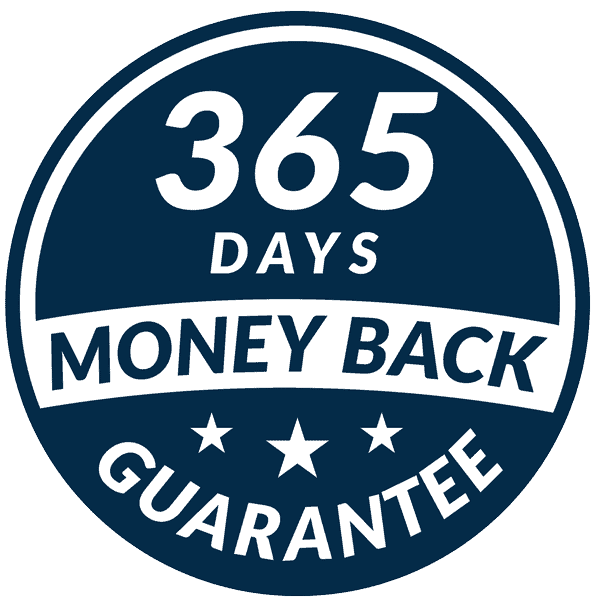 My Remarkable 365 Guarantee
To make your decision to buy easy, you've got a one-year guarantee on your purchase. It takes time to internalize and apply this higher-level training and I want you to feel like you have the luxury of growing into the systems mindset without pressure.
Some elements of the training can be implemented with immediate benefits to your bottom line, other aspects will take plenty of time and testing to refine and establish.
Buy the Trenches III manual or the Complete Trenches Training Bundle and if it doesn't deliver actionable and tangible benefits in your business reach back at any time for a full year after purchasing and your money will be refunded.
We are all at different stages of growth, and some of the concepts I share may not be relevant to you right now (they will be later, mark my words), but even just a few tiny tweaks will yield disproportionate results. In some cases, where the ideas are consistently employed, those results will be transformative.
This offer will only be available at this price for a limited time.
No kidding, no false scarcity.
The concepts and insights I share in Trenches III are high-level and developed through years of trial and error. Thousands of dollars have been spent refining the very ideas I want to place in your hands today!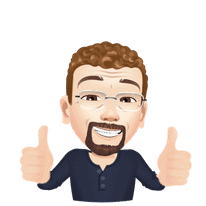 Above and beyond the core Trenches III system training you'll also get the following bonuses…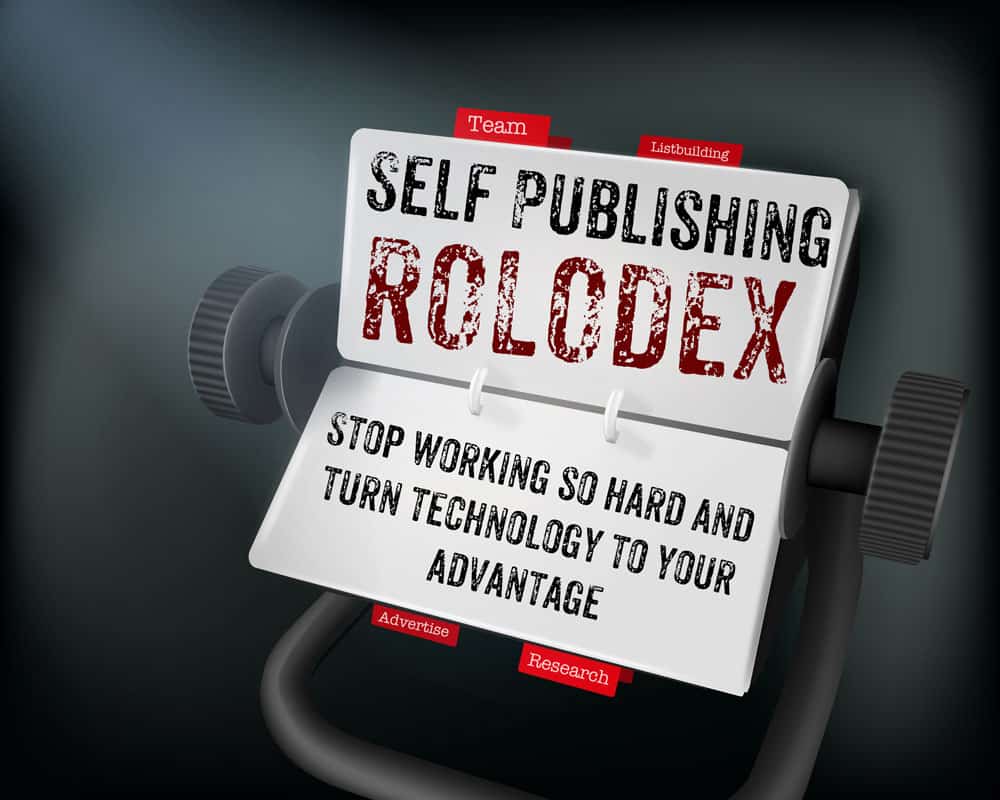 BONUS #1
Essential Self-Publishing and Software Rolodex
Have you ever wondered what tools, software, services, and high-level hacks successful publishers use to streamline their production?
I have tried and tested many and this valuable Rolodex contains the outright winners for productivity, writing, formatting, list building, research, team management, cross-border payments, and more.
---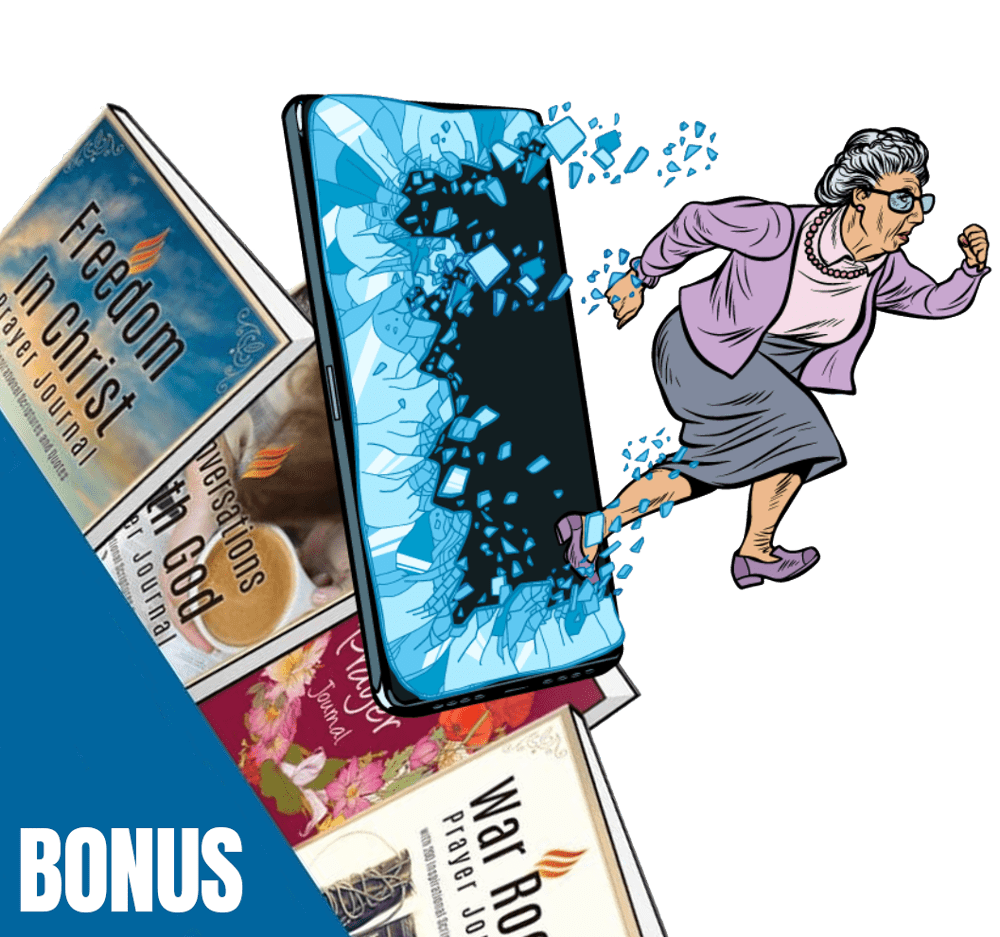 BONUS #2
Perennial Low Content Publications Training
Create journals, coloring books, workbooks, and planners that sell like crazy and never grow old!
A concentrated look at creating long-lasting low-content, income-generating journals, planners, and workbooks, and how they have added over 100K to my bottom line in the past two years.
There's a lot of information out there about how making money with low-content books is easy and effortless, but the fallacy of no-work-big-pay is grossly oversimplified.
Learn how to publish low content in a purposeful way that leads to escalating royalties in the long term.
This is a short but extremely valuable addition to the main training, and I believe it will inspire you to consider how you might add a low-content string to your self-publishing bow.
For a Limited Time, Lessons From the Self-Publishing Trenches III is available for $47. It will never be sold for less than this, and this early-bird price will only be available for 7 days.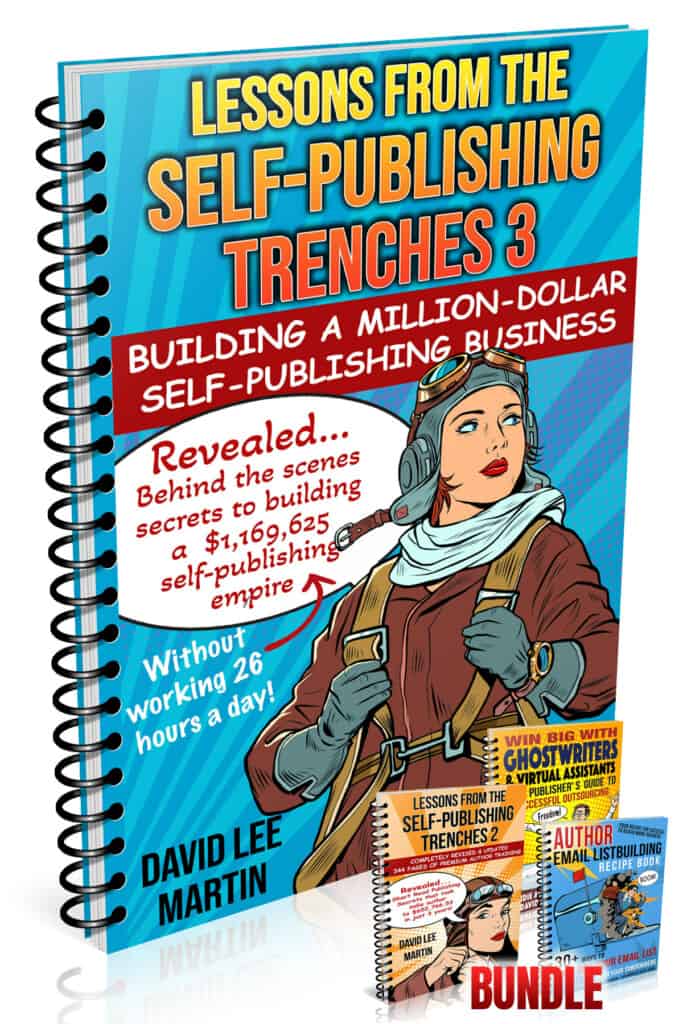 Here's What You'll Get…
The Trenches III System training includes…
---
The Brand New 172-page Trenches III manual
In-depth step-by-step walkthrough of the systems and processes that have helped me build a million-dollar hands-off book business.
Essential Self-Publishing & Software Rolodex
All of the tools, software, and services are cataloged for your ease and use. Just one change to your software stack could lead to hours saved from your weekly workload.
Perennial Low-Content Publications Training
Get an eagle-eye view of how I'm leveraging my knowledge and passion to create profitable low-content journals and workbooks published directly to Amazon.
Other Unnancounced bonuses
Get an eagle-eye view of how I'm leveraging my knowledge an
Or Grab The Trenches Bundle and Additionally Receive…
Lessons From The Self-Publishing Trenches II, Win Big With Ghostwriters & Virtual Assistants, and The Author Email List-Building Recipe Book. Together with the Trenches III system, this full package of training manuals is sure to rock your publishing world!
If you want the Trenches III system training (or the complete Trenches training bundle), plus my two valuable bonus resources only available as part of this package – The Self-Publishing Rolodex and Prosperous Perennial Low-Content Publications, you have just 7 days before this offer disappears.
Which Package Do You Want To Take Home Today?
Either grab the Trenches III system manual alone or supercharge your progress with the Complete Lessons From The Self Publishing Trenches Bundle
Option 1
** BRAND NEW **
Lessons From the Self-Publishing Trenches III Systems Training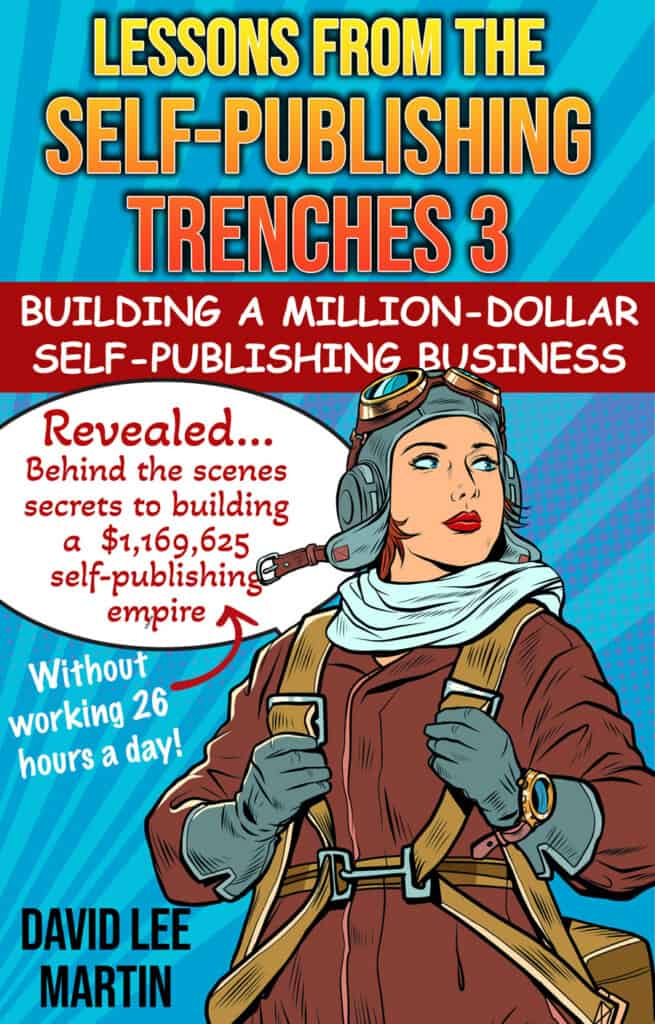 Limited Time Launch Price
• Lessons From the Self Publishing Trenches III systems training manual
• BONUS I: The self-publishing Rolodex (software and services library that will greatly streamline your publishing business)
• BONUS 2: Profit From Low Content Perennial Publications training – create and sell evergreen journals, notebooks, and workbooks that sell year after year!
365 Day Guarantee
Option 2
The Complete Trenches III Training Bundle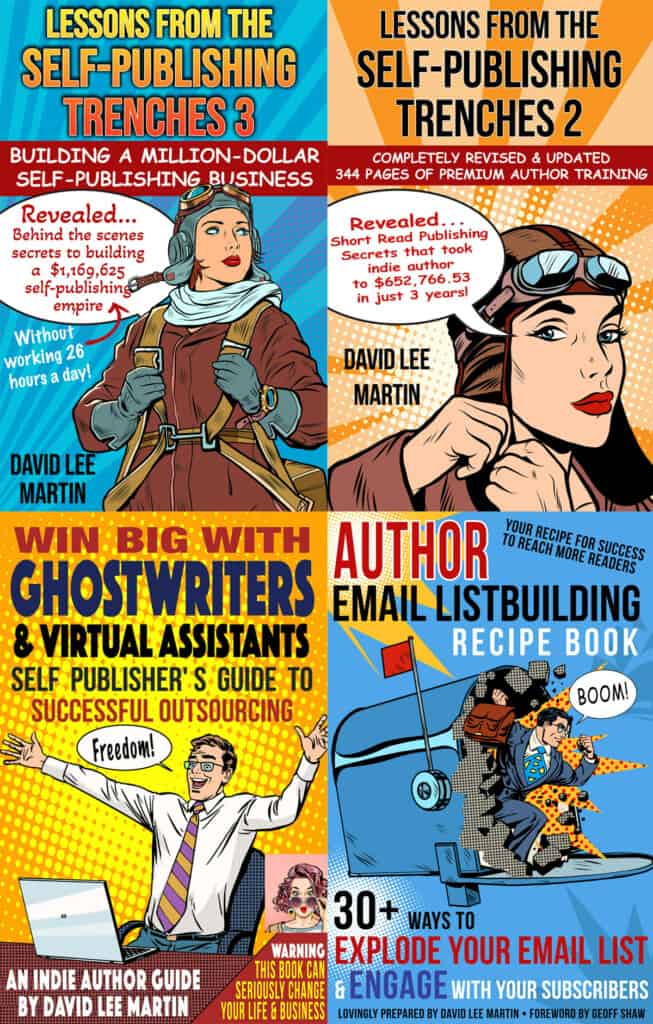 Limited Time Launch Price
• Lessons From the Self Publishing Trenches III systems training manual
• BONUS I: The self-publishing Rolodex (software and services library that will greatly streamline your publishing business)
• BONUS 2: Profit From Low Content Perennial Publications training – create and sell evergreen journals, notebooks, and workbooks that sell year after year!
PLUS
• Lessons From the Self-Publishing II – the original updated edition of the Trenches training – a pivotal training for authors and self-publishers with thousands of copies sold.
• Win Big With Ghostwriters and Virtual Assistants – a key training on delegation and working with remote writers, designers, assistants, and teams. HINT: This is the real secret to limitless growth.
• The Author Email Recipe Book – a recipe book for authors who want to grow their income-producing email list.
365 Day Guarantee
PS: I considered making this training available only to people who recognize how mind-blowingly valuable (and rare) this kind of behind-the-scenes detail is worth, and charging several thousand dollars for the privilege.
Instead, I remembered where I have come from, and how amazing it would have been to get started with radical growth in mind right from the outset (or to have proven ideas to pivot to a new system-based model if you are already an established publisher). I genuinely enjoy helping other creators make the most of their time, money, and talents, and am pleased to get this timely information in as many hands as possible.
At the same time, I do know how valuable what I'm selling really is so won't keep this offer on the market at this price point for long. Buy it today because next week it might be five times what you'll pay today.
Limited Time Launch Price
Lessons From The Self Publishing Trenches III Systems Training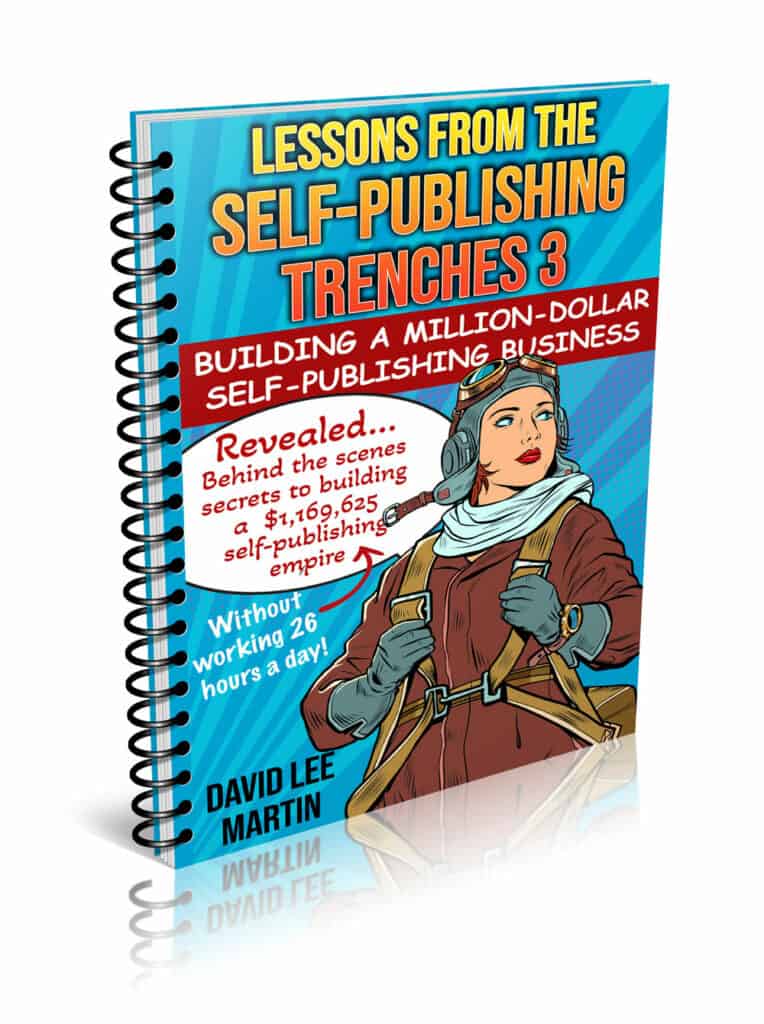 Limited Time Launch Price
Trenches III System Training
+ Three Valuable Bonuses
The Complete Trenches III Training Bundle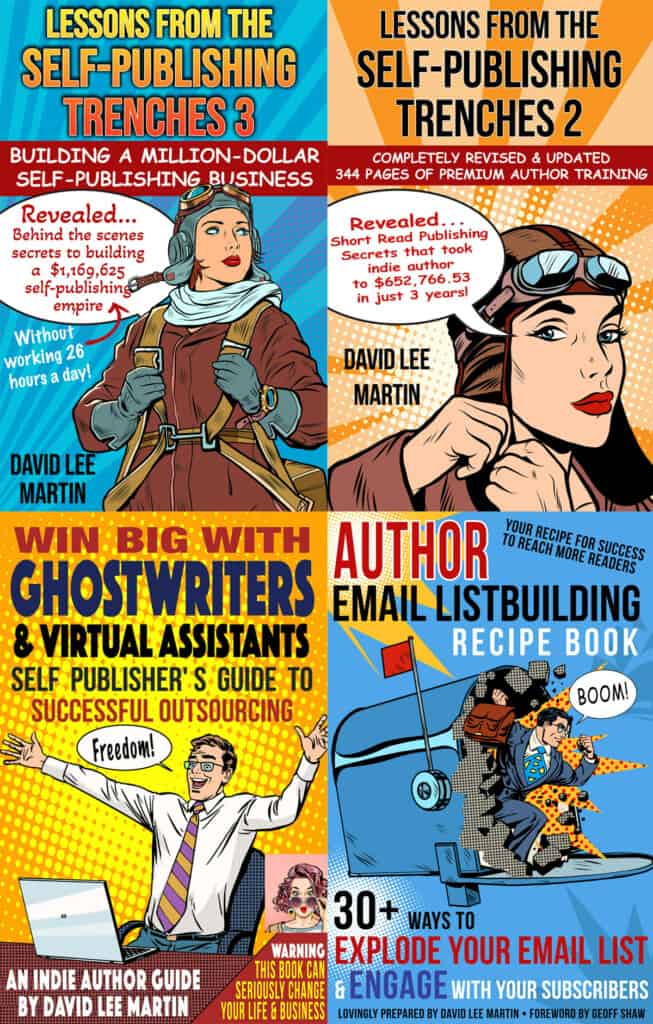 Limted Time Launch Price
Trenches III System Training
+ Three Valuable Bonuses
+ Lessons From the Self-Publishing Trenches II
+ Win Big With Ghostwriters & Virtual Assistants
+ The Author Email Recipe Book